Active Breaks In Callystown
We try our best to stay active in every sort of weather. On rainy days we do Go Noodle or Just Dance. We enjoy 10@10 too (click here to go to RTE's 10@10 activities). It's great to get moving even if we can't get outside!
Run Around Europe Challenge
We really enjoyed the Run around Europe Challenge. Every day we ran or walked laps of the playground and kept record of the distance covered. Altogether, over the six weeks we were doing this challenge, we managed to cover the route mapped out below.. Have a look at the map to see some of the places we visited! Well done, everyone!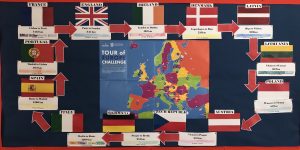 Do Your Talking As You're Walking
While it is very important for pupils to socialise at break time and chat to each other, too much talking can lead to inactivity.  To ensure this doesn't happen at Callystown N.S. we have a 'Do your Talking as You are Walking' policy.  This way the pupils can chat and stay active at the same time. Signs to remind us of this are up on the doors leading out to the yard and the Active School Committee keep an eye out to ensure the policy is being enforced.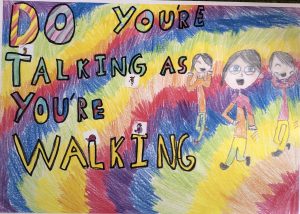 Active School Walkway
This will be introduced in the first term of the 2019/2020 school year. There will be a series of signposts around the perimeter of the playground which will encourage pupils to keep moving during breaks. The blue route will be a long route of the perimeter of the school whilst the green route will be shorter. Keep an eye out for the sign below. This marks the start and end point for both routes.
Playground Games
The pupils on the junior yard have been enjoying lots of different playground games. Take a look at the pictures below and see how much fun they have been having playing hopscotch, snakes and ladders, x's and o's and many other games too. The pupils in the senior yard have been keeping themselves active with the large and individual skipping ropes, hula hoops and many different varieties of the playground classic 'Tag'.
In School Gaelic Football Leagues
Our after school Gaelic Football leagues have been a great hit for many years and it is always great to see the large number of boys and girls who take part in these. Have a look below at some snapshots from the boy's autumn league final which was won by Connacht. Well done to Donnacha, Dylan, V.J., Josh, Rayan, Ronan and Kalum who were the members of this team. Following a well-earned winter rest, training resumed in early March. Both the boys and girls teams were very competitive in the county leagues and we look forward to competing in these competitions again next year.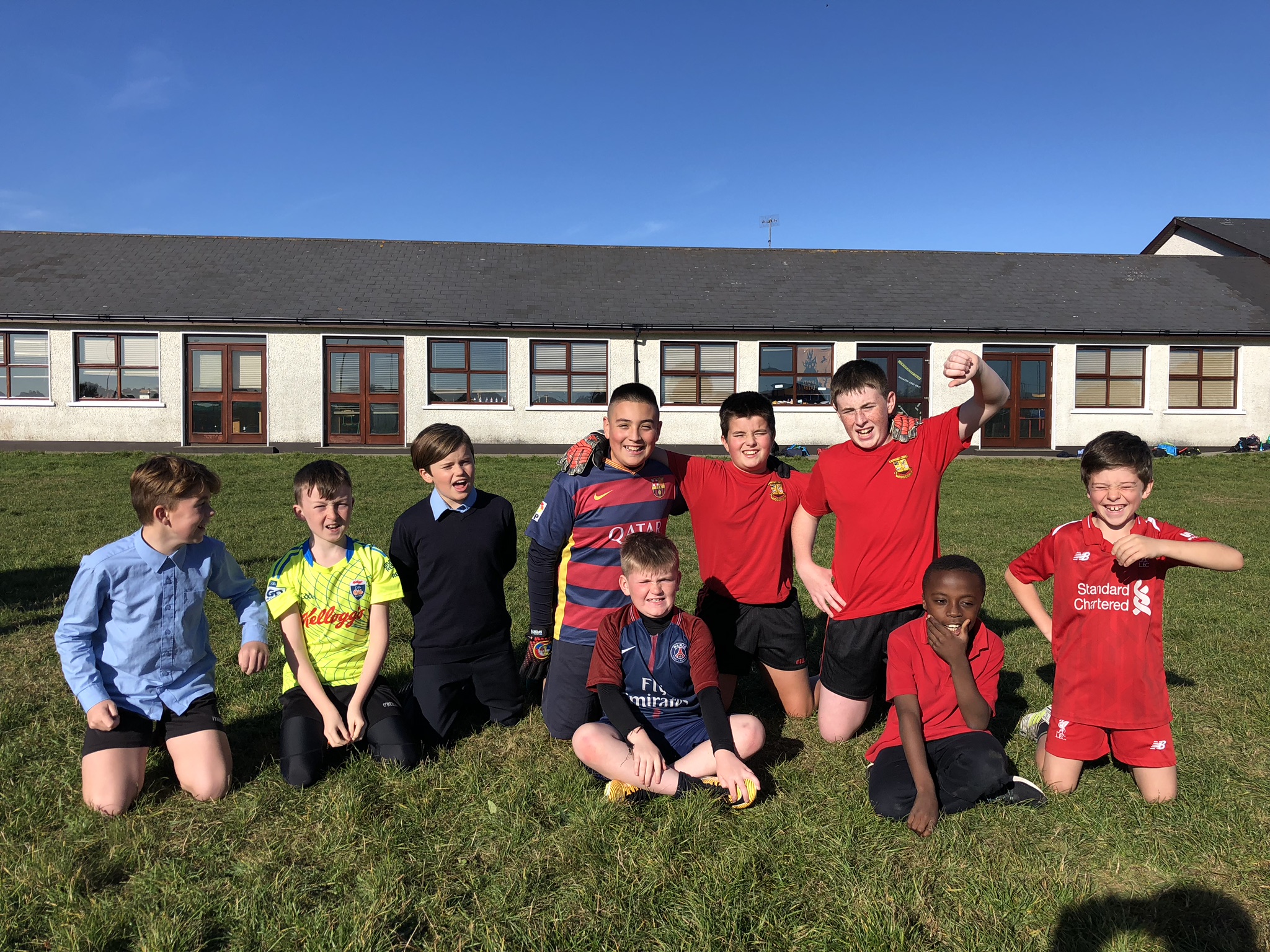 In School Soccer Leagues
The astro-turf is a fantastic facility and is something the boys and girls very much look forward to using. Whilst usually it is run on a rota system with 2nd using it on a Monday, 3rd on a Tuesday, 4th on a Wednesday, 5th on a Thursday and 6th on a Friday, there have been a number of very successful in school soccer leagues run by the 6th class sports prefect and the active schools committee. The reigning champions are _______ . Well done to … who were the members of this team.