Active Schools Week Summary 
Active School Week (4th – 7th June, 2019)
The Active School Week (ASW) initiative is about providing fun and inclusive physical activity opportunities for all members of the school community.
It allows us a school to reinforce the message that not only is physical activity good for you but it can also be very enjoyable. It provides us with an excellent opportunity to raise awareness about the physical activity opportunities that are available in our locality and to work collaboratively with students, parents and members of the community.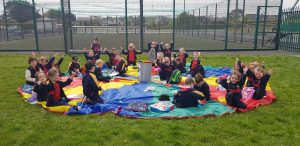 Last week we had Active Schools Week in Callystown. Firstly we had active lines, active lines are a teacher puts music on and we do exercise. On Wednesday morning, we had rugby, athletics and gaelic for the younger classes. After break, there was Irish dancing and a nuzzle game with Mr. Crosbie. Then in the afternoon, there was soccer with Walshestown and golf with Baltray.
On Thursday morning,there was dancing with with Danceworkx, basketball, me time and gym work with Sean Kilroy. After break, there was parachute/playground with the Active Schools Committee, Fitkidz and boxing with Treadagh. Some of the boys in 6th class went to a football tournament in United Park. Then in the afternoon, there was yoga.
On Friday, we had our normal Sports Day with one special event, the students vs teachers relay race (which the students clearly won).
In the end, Active Schools Week was a huge success and we hope for it to happen again in the future.
                                                                    By Donnacha Skinnader and Dane Matthews
On Wednesday, a coach from the Leinster rugby team showed us some skills. After that, we played a game of tag rugby. It was so fun. In the afternoon we played some games in the P.E hall and we all had a great time.
The next day, I played the parachute game with the junior and senior infants. All of them were delighted.
Finally we did some boxing. All of us learned new skills and techniques. It was so fun and I enjoyed every bit of it.
                                                                                   By Kalum Matthews Woods
I loved doing the boxing. It was fun looking after the little kids. It was so fun doing Jui Jitsu. I thought the Irish dancing was gas. The golf was very fun but I only got five points. Me time was gas and I loved doing the resistance bands.
                                                                                                                        By Connell Kelly